Lister Bell STR 2014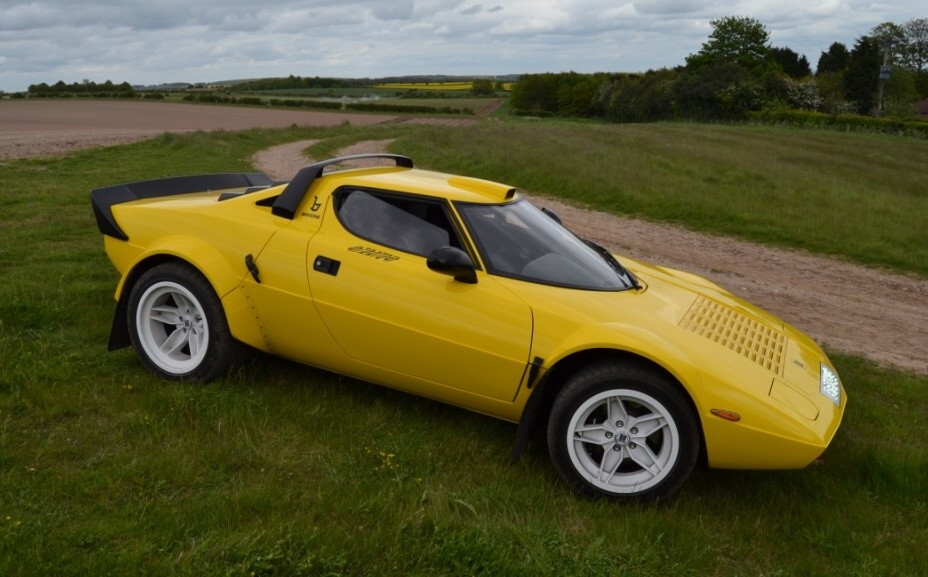 Here we have for sale a Lister Bell STR which has been assembled by its current owner from a kit supplied by ourselves in July 2014. The car was completed in February 2015 & went on to pass the VOSA IVA test in March & was subsequently registered in April.
The car is finished in polished yellow gelcoat with contrasting black painted additional panels, the body style is the slightly more aggressive GP4 square arch version which is fitted with an additional roof scoop to aide interior ventilation but the front of the car is left clean without the additional lamps & pods which are often found on the full Gpiv replicas.
The interior of the car pays hommage to the original Stratos road car with its fully carpeted chassis sections & Alcantara trimmed Stradale style dashboard, additional comfort is provided by the integrated AC system.
The car offers engrossing performance with the motivation being supplied by its 192hp Alfa Romeo 2.5 V6 motor, this drives through the corresponding Alfa 156 6 speed transmission which transmits the power to the wheels via bespoke drive shafts. Traction is never in doubt due to the fitment of the excellent Toyo R1R tyres & braking is assured by the use of the cars unservoed 4 piston calipers which are fitted both the front & rear axles. Bespoke dampers, specialist springs & anti roll bars complete the drive train & provide a ride quality which belies the cars sporting agility.
The car subsequently drives beautifully & provides the prospective owner with an excellent all round vehicle which will be equally at home whether it be a spirited evening blast around the country lanes, on a regularity rally or even on a long contintental jaunt through Europe to the Alps & its spiritual home in Italy.
Full Spec-
Lister Bell STR chassis with full integral roll cage in 45mm & 50mm CDS tubing
Suspension- Lister Bell CDS tubular wishbone set with bespoke billet alloy uprights all round
Anti roll bars- Front & rear bars fitted
Brakes- 300 x 24 ventilated discs on each corner with HiSpec 4 pot calipers & EBC pads
Dampers- Black Art Designs front coilovers, Black Art Designs rear struts,
Springs- Lister Bell progressive rate springs front & rear,
Wheels- Lister Bell 8.5 x 16" front & 11 x 17" rear 2 piece coffin spoke rims
Tyres- Toyo R1R tyres in 225/45/16 fronts & 275/45/17 rears
Engine- 2.5 litre V6 from an Alfa 156, the cylinder heads were removed & skimmed before being reassembled using new gaskets prior to the engine being fitted in the new car.
Induction- The car is fitted with the standard Alfa inlet runners, plenum chamber & DBW throttle body which is in turn breathes through a K&N air filter,.
Engine Management- The car runs with the standard Alfa 156 Bosch 2.1 ECU which includes the OBDII diagnostics port.
Transmission- 6 speed unit from the Alfa 156 with bespoke cable operation & reverse lock out,
Clutch- Alfa 3.2 Gta unit fitted
Exhaust- Repackable Stainless system utilising standard Alfa manifolds fitted with twin catalysts
Fuel Tank- Inboard mounted fuel cell in aluminium, 45 litre capacity
Cooling- Front mounted alloy cored radiator with twin 12" ECU controlled coolant fans
Body- Lister Bell group 4 square arch body finished in pre coloured gel finish fibreglass
Glazing- E marked front & rear screens, Acryilic double curvature side screens
Interior- Fully carpeted & sound deadened interior, dashboard & door cards trimmed in grey Alcantara. Stitched vinyl headlining & padded vinyl roll cage trim.
Dash Panel- Stradale type dashboard in RHD format,
Instrumentation- Lister Bell electronic gauges with period correct detailing & stepper motor technology,
Seating- Lister Bell bespoke seats with adjustable headrests trimmed in alcantara with vinyl sides
Seat Belts- 3 point inertia reels fitted but eyelets for 4 point harnesses already installed,
Steering Wheel- 350mm Sabelt wheel
Interior comforts- Full air conditioning system fitted,
Exterior- Period correct handles & latches, Monza style fuel cap,
Extras- Heated front screen, Reversing camera fitted, Mazda Miata electrically adjustable rear view mirrors
Additional- Rally spec mud flaps fitted F & R
Whilst the car is currently available as a RHD it is relatively easy to convert a Lister Bell to LHD due to the design of the chassis & relevant components. The only major component that would need replacing is the Alcantara trimmed dash surround & binnacle.
Price-
Now Sold,
Thank you for looking
Click on a picture to see more images.